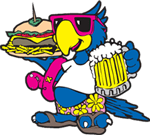 Welcome to the Blue Parrot Grill!
Delicious Sandwiches, Entrees, & Desserts!
From fresh seafood to sizzlin' steaks, there's something for everyone at the Blue Parrot Grill! Bring the whole family and enjoy out lakeside patio dinning.
Wine, Beer, & Frozen/Iced Drinks!
Our friendly mixologists are ready to create you any exotic drink, or perhaps you prefer an ice cold beer, or a glass of red or white wine. We're ready to serve you right now on our lakeside patio.
Rain or Shine!
With our patio curtains, we're ready to serve you rain or shine! Bring the whole family and the dog down to The Blue Parrot Grill for great food, drinks, music, and fun this Summer!
You're welcome to bring your dog to the Blue Parrot Grill, and we request that they be on a leash during their visit with us.
If you're visiting us from the lake, our friendly pier-side staff can fuel and park your boat until your ready to sail off into the sunset.
The Blue Parrot Grill was established in 2010 and we are your lakeside bar & grill, offering a family friendly atmosphere, great food, and great drinks! We serve lunch & dinner on our lovely patio, and you'll enjoy a spectacular view of Lake Norman in a relaxed environment.
We offer the ideal location for friends to meet and enjoy the warm ambiance, friendly staff, and live Summertime entertainment. Our mixologists offer a wide range of exotic cocktails to satisfy the most sophisticated tastes, and we offer an extensive menu of beers, wines, mixed drinks and liquors.
So grab the family and the dog, and come down to The Blue Parrot Grill today!
Had some fun at The Blue Parrot Grill?
Please visit our Facebook page and let us know all about it!
We love coming here! Great food, great service, awesome view and the owner is super cool !! My hubby loves their full rack of ribs, and I love their seafood dishes!!
Great food, Excellent service!!!
...fun atmosphere and great views! we will be back.
Great food, service and view. Definitely will be back!
Love the atmosphere! Love the food. Lakefront patio perfect for Current needs of open air dining. Felt like a mini vacation!
169 Pinnacle Lane
Mooresville, NC, NY